About Basia Zarzycka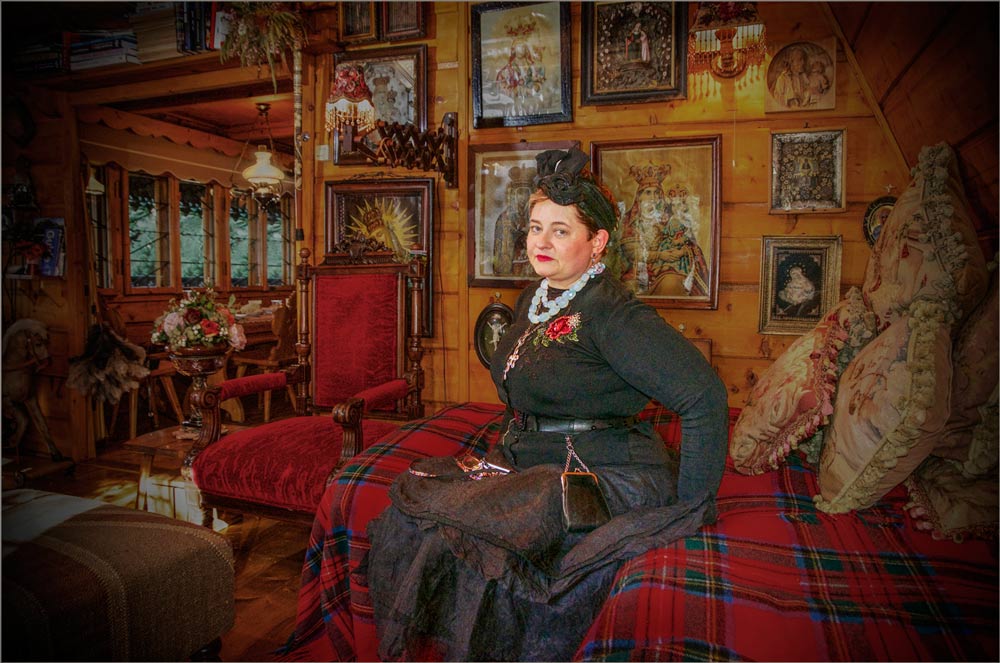 Basia in her house in Zegocina, Poland. Photograph by Tony Young of Rose and Grace Photography
The more that one knows about Basia Zarzycka, the more obvious it is that she is a truly unique character without equal in her ability to see new and exciting ideas and to translate them into the most wonderful jewellery, gifts and bridal designs.
A born Romantic

Basia would consider it a great complement to have her work perceived as romantic. She readily admits that his is precisely what it is.

She also knows that her amazing store in the heart of London, just off Sloane Square in Chelsea is so unique and in the only place where she could imagine it to be. Her magical shop attracts customers who value her individuality, discretion and quality above convention and the ordinary. She feels very comfortable in Chelsea, at the heart of a bustling centre of a great city but where inside her store is a place like no other. Hilary Alexander OBE, former fashion editor of the Daily Telegraph, has referred it to as 'the most romantic place in London'.
First and Formost an Artist

Basia is, first and foremost, an artist. She has used her unsurpassed talents for over thirty years to create some of the most amazing and sought after wedding dresses and accessories for an international list of clients including film stars and royalty.  She does not try to make capital on who her clients are but her shop is a place where you may find customers famous from the aristocracy, music industry, television and film mix with ordinary people who value her unique work and what she has managed to create.

A Women who Creates

To read a fascinating article on Basia Zarzycka, follow this link to see what the publication "Women Who Create", summer 2016 issue, wrote about her recently.

Basia also featured in an earlier issue here.
A feast for the Eyes
| | | |
| --- | --- | --- |
| | | A visit to her shop is a total feast for the eyes and it is impossible to take everything in during one visit. It bursts at the seams with bridal accessories and incredible, unusual gifts that she makes herself. She has vintage and antique jewellery as well as pieces made by her, all displayed in the most wonderful manner, on religious statues, charming stuffed animals and antique figures and busts.  Also to be found, layer upon layer, are a kaleidoscope of rainbow-hued flowers, beaded animals, bags and hats, |
bizarre concoctions fashioned from her imagination and so many items that you could not possibly conceive until you see them. First time customers often gasp at the assault on their senses that the visit brings.
Her shop interior has been very carefully considered and everything has its place.
Nothing is accidental about where each item is placed.  Each object works with the next one and she knows instantly if anyone has moved something out of place! There can be no more personal display than here and it is like visiting an exhibition or art installation about her.
A designer of Fine Bone China figurines
Basia holding Elizabethan Rose, a Limited edition figurine designed by Basia for The Figurine Collective
Basia has always had a love for fine bone China figurines and has worked with companies such as Wedgwood in the past. She now has designed 2 very special figures for The Figurine Collective. The photo above shows her in her shop holding "Elizabethan Rose", the first piece in a limited edition of just 25 pieces worldwide, which wasmade totally by hand in England. It was sculpted by Peter Holland. 
A proud Polish Background
Her Polish background has had a huge effect on her and her work. Growing up in Birmingham, her parents were very supportive of what she wanted to do. Her first venture into business was a stall at Birmingham's Bull Ring market. Later a small booth at Bermondsey Market led to her shops in The Kings Road, Sloane Square and now Ellis Street. Although starting a business is never easy, Basia believes that you have to believe in yourself and really love what you do. More that just passing exams and having diplomas (Basia has a BA from Goldsmiths College in London and an MA from Birmingham University) she feels that you have to live, breathe and feel for what you do. She is most inspired by the fairytales that she read as a small girl, flowers of all kinds and Polish folk history. This upbringing and heritage together with personal experience has enabled Basia to do what she does. It is like breathing more than a job. It is something that she has to do.
Here is a link to an article written in the Polish press about Basia. There are two sections -
No place for minimalism in Basia's World
Basia's warmth and charm radiate through her creations and it is always a pleasure to meet her in person. Minimalism is not a style that could ever be applied to Basia. She does not do 'dressing down'. She loves dressing up and her layered, embellished outfits reflect her personality and her shop. Her Catholic upbringing has emphasised her spirituality and much of what she creates shows this. Consideration goes into everything that she makes and there is often significance to the colour or number of elements in a design that is important to her. It lifts the quality and conception of her work to another level.
To see a sample of the vast range of designs by Basia, please visit her online shop.
If you are looking for something unusual as a gift or for yourself and you get the chance to visit her store in Sloane Square, it will be well worth your visit.
For more information about Basia Zarzycka or on anything related to Basia's designs and art, feel free to contact her by telephone on 0044 (0)207 730 1660.
If you prefer, there is a simple contact form below that will be answered by Basia personally.
To return to the HOME PAGE from here, about Basia Zarzycka, follow this link