Vintage Accessories by Basia Zarzycka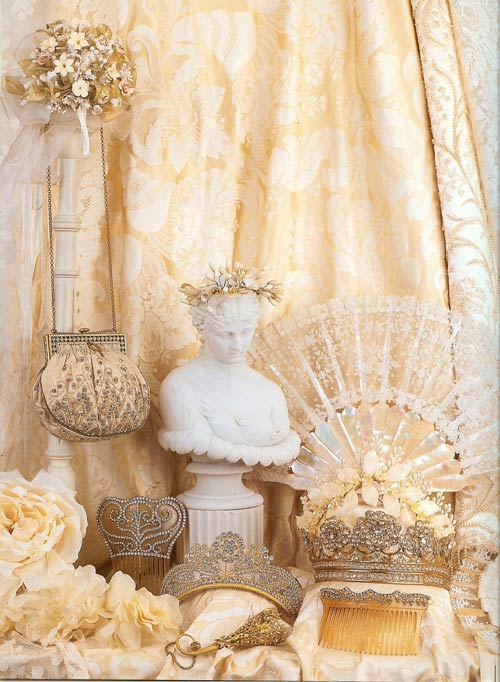 "I simply adore antique and unique vintage accessories, and I am crazy about my own collection of antique accessories that I have been compiling, sharing, and selling for the last 30 years. Three decades ago, I started selling my vintage and antique collections at the Bermondsey Antique market, held on Friday mornings. 
In my collection and shop I have fans from the 1860's, 1880's parasols, beautiful gloves, reticules, straw floral hats, purses, beaded bags, shoes, Georgian spectacles, tiaras, combs and many, many more things that have all played a very important role in influencing me in my work.

Sourcing the Best Design Components Available
I travel all over Europe, the USA, and here in England searching for the beautiful, artistic and unusual to create my unique vintage accessories. Embroidery, beading and ribbon work are all hand techniques I admire and practice.  Antique and vintage buttons are incorporated into beautiful wired button jewellery collections, which I execute on hard gold plated metal woven necklaces and bracelets.
Occasionally I have a huge clear-out and sell my collections surplus to requirement, in an auction house called Roseberys. Many of my finds have ended up in museums and private collections as well. 
Through my shop on line, I am able to share some of my special vintage finds and I hope you enjoy looking and adding to your collection from there."

The best unique vintage accessories can be found within Basia's incredible collections. If you have any particular item that you are searching for, it might be possible that Basia has just the thing for you. She welcomes enquiries from around the world, and is always happy to help customers find their own special treasure.
To get in touch with Basia, either phone her London shop on (0044) 207 7301660, or complete the simple contact form available here.
Alternatively, you can always email her via "info@basiashop.com"

To return to the HOME PAGE from here, 'Vintage Accessories" , follow this link