Antique Button Jewelry
Antique button jewelry (or jewellery to British collectors) is hot at the moment and no more so than when created by Basia Zarzycka
"Buttons are worn and lived with every day of our lives. The beautiful buttons that I have found, sometimes in the oddest of places - and from all over the world, have all been chosen by me for their beauty and artfulness.
Some buttons have been purchased from prized private collections, whilst others have been discovered in humble flea markets. No matter where that originate, each and every button in my collection, I consider to be a small work of art, created with incredible craftsmanship, exquisitely crafted and made from all manner of inexpensive to valuable materials.
I wanted to preserve the beauty of each button by collecting groups of buttons which have excited me for their size, colour and subject portrayal. For example, the flamboyant cut steel pieces circa 1875, beautifully enamelled, mother of pearl, fine woods, papier-mâché or horn." 
Basia Zarzycka has been a life long collector of beautiful objects. She is able to see the innate beauty of seemingly ordinary things and has the ability to up-cycle them into new and interesting pieces. Her new 'antique button' jewellery is designed to be worn as bracelets, brooches and necklaces and is remarkably easy to match to many outfit.
Every individual button has its own story and Basia is able to remember where every piece came from and her excitement in finding the original, knowing that she would be able, one day to create something beautiful from them. The beauty that is more than the sum of the parts and something that breathes new life into an antique piece making it totally wearable in the twenty-first century.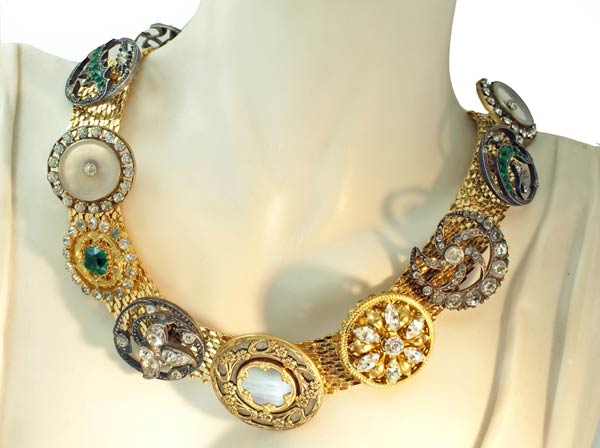 A fabulous range of Antique Button Jewelry
A fabulous range of Basia Zarzycka's hand made antique button jewelry is available from her store in Sloane Square, London. This is an ever changing stock, as pieces are sold and she is inspired to create new ones. She is willing to take commissions for unique pieces specially made to order. A few items of button jewellery, personally selected by Basia can be found in her on-line store if you follow this link.
Recently, Basia has held antique button jewellery-making classes on board cruise ships that are part of the Page and Moy travel group. The interest exceeded expectations and she has been booked to do more classes in the future.

If you would like to discuss any aspect of button jewellery or to consider commissioning something special for yourself, please get in touch by ringing 0044 207 730 1660, where Basia would be pleased to talk to you. If you prefer to write, a simple contact form can be found here.
To return to the HOME PAGE from here, Button Jewelry, follow this link